Biscuit Making & Baking Machines
Dough Mixer
Application:
The dough mixer is used for mixing various ingredients such as flour, sugar, fat, water, and other chemicals for making hard, soft or fermented dough for making biscuits.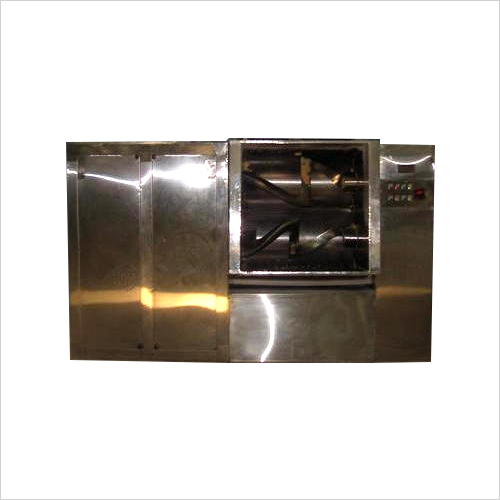 Design:
A base plate over which two side frames are fitted for taking the load of mixing chamber of bread dough mixer which is fitted on side frames. In the mixing chamber of bread dough mixer two Z/sigma type-mixing blades are fitted which rotate at different speeds in opposite direction to mix various types of soft/hard dough for achieving required glutton of dough. An electrically operated tilting device is also fitted to tilt mixing chamber to unload mixed dough. The machine is covered from all sides to avoid dust and accidents etc.
Capacity:
100 Kg. Flour, 200 Kg. Flour, 300 Kg. Flour per batch.
Contact parts:
In standard model all contact parts are made in mile sheet/ cast iron but the top lid in S.S.-304. However all contact parts can be supplied in S.S.-304.
Leakage protection:
The mixing bowl is protected by double oil seals with gland rope in all four shafts of blades to avoid leakage of liquids from the mixing chamber.
Power load:
10HP & 1 HP, 20HP & 2HP, 30 HP & 3 HP respectively.
Rotary Moulder (Soft Dough making Machine)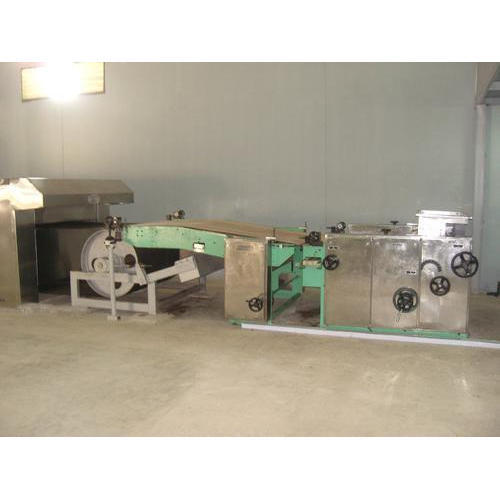 Rotary moulder is used for soft dough and soft variety of biscuits. The dough to be moulded is fed into the hopper and a forcing roller forces the dough into the cavities of the moulding roller made out of gun metal, uniformly engraved and coated with food grade Teflon. Excess dough is cleared with a knife, which is held by a holder made from tool steel, to ensure uniform filling.
An adjustable rubber roller conveying the discharge cotton web, presses it uniformly against the moulding roller for perfect transfer of molded pieces from the moulding roller on to the web.
The purpose of three drives is, speed of the forcing roller influences the density of dough forced in to the moulding cavity. The speed of the die roller influences the production speed. The discharge web speed influences the shape of the biscuits produced along the web or across the web.
Rotary Cutter (Hardouh Cutter)
Application: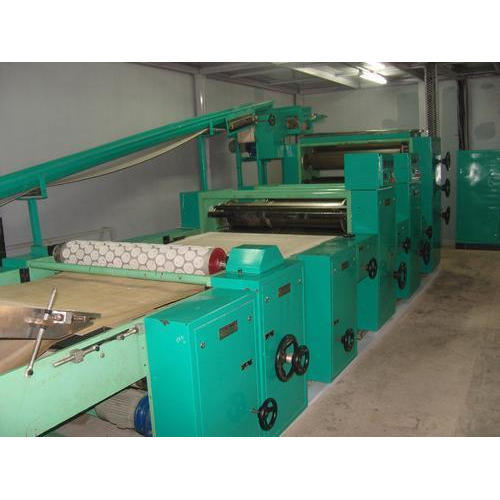 The single head rotary cutter prints fine design on a continuously fed dough sheet and also cuts out the individual dough piece. It is used for pre baking forming for marie , thin arrowroot, krackjack, petit-beure, monaco, and all types of salty biscuits.
Operation
The unit powered by 1.5KW helical geared motor and speed controlled by AC frequency controller. Drive is given to cutting roller only to accommodate different sizes of die's in this machine.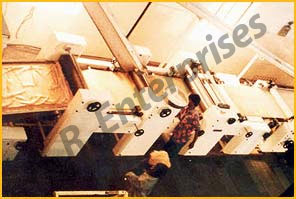 Rubber lined anvil roller is adjustable in height so that pressure can be controlled at both sides in parallel or independently. The anvil roll is being driven by friction of the cutting web, which is independently powered by its own separate drive. For safety reasons the cutting roll is provided with guard, removal of which stops the motor.