Biscuit Making & Baking Machines
Biscuit Baking Oven
Construction: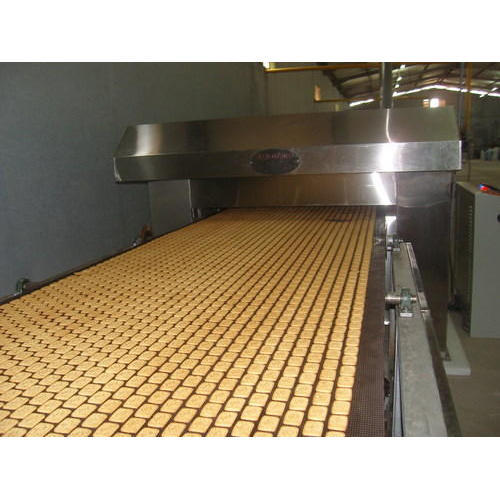 The biscuit baking oven body consists of steel steamtight tunnel with equally divided zones of the radiators. Stainless steel expansion joints are provided between these zones in order to eliminate the expansion of the oven section. The inspection doors are provided for inspection of the baking goods during the process.
Firing Chambers:
The complete chamber of biscuit making oven will be insulated with minerwoll filled from outside to conserve heat and increase efficiency. The fully automatic imported burner shall be fitted to the chamber and the temperature shall be controlled by automatic temperature controller on the control panel.
Insulation:
The complete biscuit making oven will be covered with 10" thick mineral wool insulation from top, bottom and the sides. The bottom portion of the oven at the sides will be covered with CRC sheets for the conveyor protection and to avoid heat loss.
Baking System: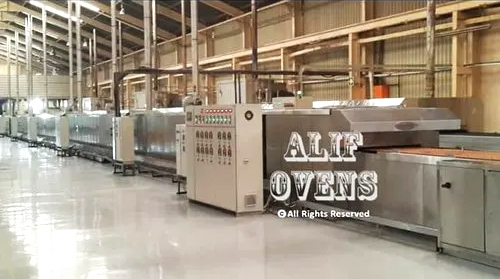 The baking in the heating chamber of biscuit baking oven takes place by radiators located under and above the wire mesh band which distribute heat for uniform baking. The recirculation heating gases of these radiators can be controlled for each zone separately. The closed recirculation system is having slight vacuum so that combustion gases can not enter into the baking chamber. The ventilating fan is for circulation of the heating gases through the recirculation system and thermostatically controlled burners provide the set temperature of the heating gases.
Fans:
All the circulating fans are fabricated from M.S. & S.S. and will be well balanced to avoid vibration and will give noise free operation in high speeds.
Application: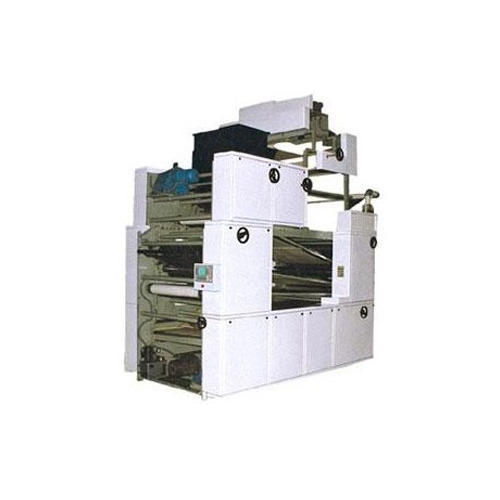 Laminators are biscuit making machines, generally used for all kinds of hard biscuit making, crackers making and cocktail snacks making. With laminator it is possible to create a puffy pastry-like structure, which is of decisive importance for the quality level and consequently for the sales success. Laminating of Dough band improves the weight/volume ratio considerably i.e., quantity increase at same weight.
Operation:
In this superior functioning biscuit making machine the dough band received from sheeter of 838mm width is passed through two shuttles. The dough sheet is cut into pieces by a knife for a length of 1000mm (39") and these pieces are laid on bottom shuttle by top shuttle. This bottom shuttle layers the pieces on first conveyor unit of 1000mm (39") wide production line very carefully. The first conveyor unit feeds to the first gauge roll unit. Number of layers can be controlled by the speed of first conveyor unit or increasing the speed of sheeting unit and laminator by AC variable frequency drive.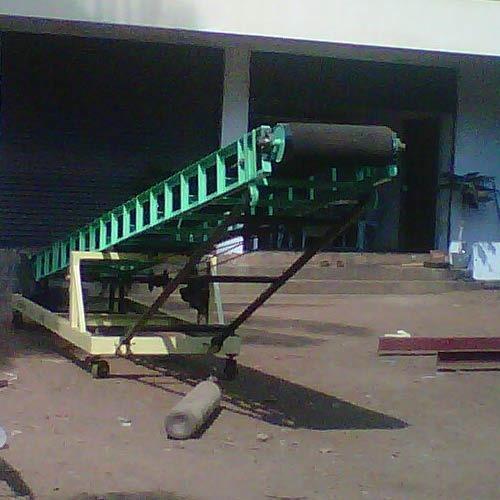 Cooling Conveyor and Stacker Machine
Construction:
Cooling conveyor is made in a modular construction of 2.5 Mtrs. long and connected together to form the required length. The supporting side channels are fabricated from 3mm thick M.S. sheet.

Idle rollers are spaced at 750mm apart on conveying direction and 1700mm on the return direction. All the idle rollers are of 48mm dia, mounted on 6004 ZZ deep groove ball bearings with grinding finish and hard chrome plated for hygienic conditions.

As you know very well practically about the droppings of oil from the cloth due to rubbing of cloth against tie angles when producing high fat biscuits. To minimise this we replaced the all tie angles also with idle rollers. This might costs little extra, but you can maintain hygienic conditions at working area.

Drive drums are two no's. of 220mm dia and projections are made on the surface of drums to minimise slip or covered with friction grip rubber tape. Manual tensioning and tracking are provided.

You can rely only on feeder table to stack the oil sprayed biscuits which does not require more travel after oil spraying.

The biscuit coming from stripping conveyor is directed on to the cooling conveyor to transfer the heat in the biscuit to atmospheric air as it is passing on it. The recommended total travel of the cooling conveyor is 1.5 times the oven length. As per your specifications you need the travel of 150 ft. for effecting cooling.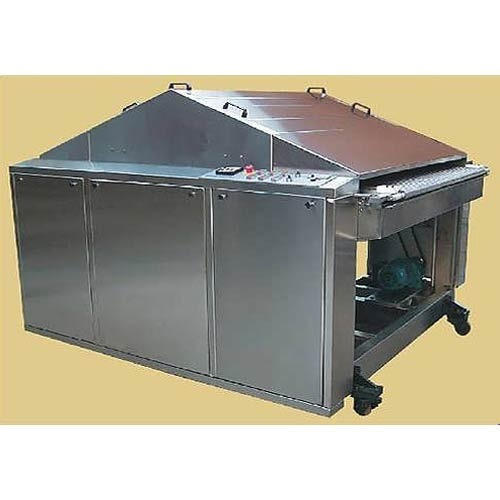 Oil Sprayer
The Oil Spray Machine is used to spray fine most of edible oil on the top and bottom of hot biscuits coming out of oven before being transferred to cooling conveyor.


Biscuit Sandwiching Machine
We manufacture and export wire cut type cream biscuit sandwiching machine, which is designed to produce a wide range of biscuit sandwiches in various shapes and sizes. Cream deposit can be uniformly thick or thin... large or small.... square or rectangular... as required to match base biscuit size and shape.

Features:


Automatic self contained unit.
All stainless steel contact parts.
2 models to suit biscuit size.
Ease of change over to different varieties of biscuit in minimum time.
Sandwiches are stacked on edge in rows on take-off conveyor for easy packaging.
Simple to operate and easy to maintain.
Compact, mobile and easy to clean.
Finer engineering
Superior construction
More functional design
More efficient operation



Specifications:
Sr. No.
DESCRIPTION
MODEL - ME 10
MODEL ME 8
1.
Number of Nozzles
10
8
2.
Biscuit size - Round
28-50 Dia
55-80 Dia
Biscuit size - Square
30-45
55-75
Biscuit size - Rectangular (Minimum)
25 X 65
50 X 80
Biscuit size - Rectangular (Maximum)
40 X 65
65 X 80
3.
Stacking on Edge
3 rows
2 rows
4.
Output per minute (approx)
600 sandwiches
400 sandwiches
5.
Cream deposition
0-6 grams
5-15 grams
6.
Power required (440V - 3 phase) -
for sandwiching machine
2 H. P.
2 H. P.
- for conveyor
0.5 H. P.
0.5 H. P.